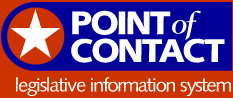 Contact Management
Record your interactions with legislators and agency officials.

Document Management
Store your documents and do full-text searching.

Legislator Information
Complete and up-to-date information about legislators and officials.

Bill Tracking
Track your bills from introduction to passage with detailed bill histories -- updated daily -- including e-mail notification of events and action.

Issue Definition
Define your own issues and link contacts and bills to them.

Lobbying Reports
Produce summary and detail reports of your lobbying activities.
...and much more